Rock And Roll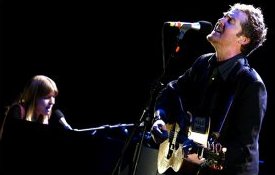 My Daddy loves music. Mommy says that he is a "music snob." (Actually, Daddy says that too.)
Being a music snob, Daddy has always dreamed of sharing his passion for music with his kids. So the day after learning how sick I was, Daddy was determined that I would still get to share in his love for music no matter what! He ordered a special set of belly-headphones for mommy and had them shipped extra-fast. Then, he immediately started making a special playlist of songs that he wanted me to hear!
Before all that, Daddy had taken me (and a very skeptical Mommy) to see a band called Porcupine Tree in Buffalo with Uncle Chris and Aunt Mary. Chris and Mary didn't know about me yet. But just before the show started, Daddy told them how excited he was that this would be my very first concert!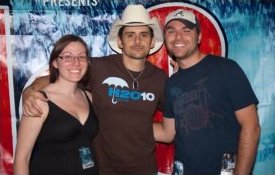 Then in June – less than a week after Mommy and Daddy found out how sick I was – they took me to Darien Lake to see Darius Rucker and Brad Paisley! Mommy was much more enthusiastic about this concert than the last one. We all had a good time enjoying the show with Grandma and Grandpa Lane.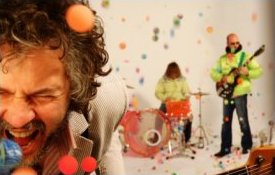 Finally, in July, Aunt Mary surprised Mommy and Daddy with two tickets to see The Flaming Lips and The Black Keys. Mommy had seen the Flaming Lips years ago, and always talked about how fun and crazy their concert was. She said it was two hours of magic and goofiness that she wished she could see again. As it turns out, when you are five-months pregnant, The Flaming Lips can be a little too fun and crazy. We spent most of the concert listening from the lawn at CPAC. But it was still great listening to the music, and hearing dad muttering about all the "freakin' hippies."
Dylan's Playlist:
One Sweet World by Dave Matthews
River Man by Nick Drake
Cadence And Cascade by King Crimson
In These Arms by The Swell Season
Les Bouches Du Monde by Gitbox!
Which Will by Nick Drake
Parachutes by Coldplay
The Sweetest Gift by Sade
Dream Life by Adrian Belew
Alone In Kyoto by Air
Love That Conquers by The Swell Season
The Road by Zero 7
Blackbird by The Beatles
From The Morning by Nick Drake
When I Get Where I'm Going by Brad Paisley
Foreshadowing by Duncan Sheik
A Living Prayer by Alison Krauss
I Will by The Beatles
Father, Son by Peter Gabriel