My Little Sister!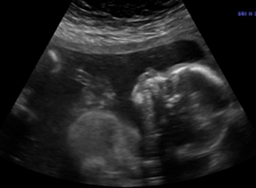 It was the day before Mommy's birthday, 2011. She'd been suspicious for a few days, so Daddy suggested that she take a pregnancy test. "Tomorrow," she replied.
Sure enough, the morning of Mommy's birthday arrived and the little stick said it, plain as day … "PREGNANT!"
Mommy and Daddy told a few people, but kept it a very close secret. But I already knew. I'd been watching over my little sister before they even knew she was there!
In October, they had another very important ultrasound to check and see how my little sister was doing. Mommy and Daddy had been anxious for months, but this day, they were extra nervous. But the doctors looked around and said that everything looked wonderful. Of course it did! After all, I was watching out for her!
Then, in the middle of November, they had another exciting ultrasound. The "anatomical checkup." I don't know exactly what that means, but Mommy and Daddy were very anxious to find out if they were giving me a brother or a sister.
It's a girl! … but I knew that already.
I'm very excited to have a little baby sister. Her big brother loves her very much, and always watches out for her.
I know what her name is, but I haven't told Mommy or Daddy yet. I have whispered a few ideas in their ears though. Maybe once I tell them, I'll tell all of you too!